When investing in capital markets, investors look out for two types of gains - capital appreciation and dividend income. The former yields higher returns but has its own types of risks involved. Dividend income refers to the excess income a company distributes to its shareholders after deducting retained earnings. A dividend can be paid in the form of cash, cash equivalents, or stocks. Dividend income not only provides a stable stream of passive income for shareholders, but the increasing time period of holding underlying shares increases chances for capital appreciation as well [brownie points for holding dividend stocks. Before moving on to the list of the top five dividend-paying Indian stocks, let's shed some light on how to calculate dividend yields and what factors to look for when building a dividend stock portfolio.
Dividend Yield
A dividend yield is a yardstick by which you can measure the returns any stock exhibits in terms of its pricing. Flashing back to Finance Class 101, a dividend yield can be calculated by dividing annual dividends per share (DPS) by the current share price.
Factors to Look for While Picking Dividend Stocks
There are multiple factors to look for while choosing dividend stocks, such as checking earnings per share trend for underlying stock, how much a company has paid in dividends in terms of EPS, the average five-year trend for earnings and the dividend profile of the company, and, last but not least, what the current dividend yield is. A dividend yield is measured against current interest rates to provide investors an outlook on whether to invest in an underlying dividend stock or not.
Here is a List of the Top Five Indian Dividend-Paying Stocks:
1. BAJAJ Auto Limited
Bajaj Auto Limited (BAJA.NS) is one of the largest motorcycle and three-wheeler exporters around, leading the market with highest market share. According to Reuters' latest data sheet, their stock trades at INR 3600. The company reported earnings per share of INR 161 with a dividend per share of INR 120. As such, the company's dividend yield stood at 3.33%. The average five-year dividend yield stood at 2.72%.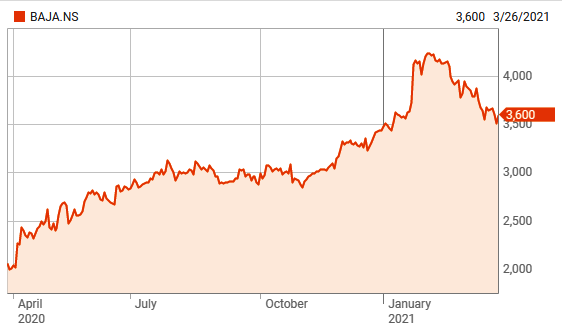 2. GAIL
Gail India Limited (GAIL) is an energy company in the hydrocarbon sector, engaged in the business of transmission services, gas marketing, etc. The company has diversified its offerings into downstream segments by manufacturing petrochemicals and liquid petroleum gas (LPG). Due to excess cash flows and strong profitability, the company maintains a nominal debt profile and capital structure. From a dividend point of view, the company has been consistently paying 25% dividends out of its earnings. As per the latest financials, the current earnings per share (EPS) of the company stood at INR 20, out of which dividend per share (DPS) was INR 6.40. At the current price of INR 132, the company exhibits a dividend yield of 3.79% with a five-year dividend yield of 2.89%.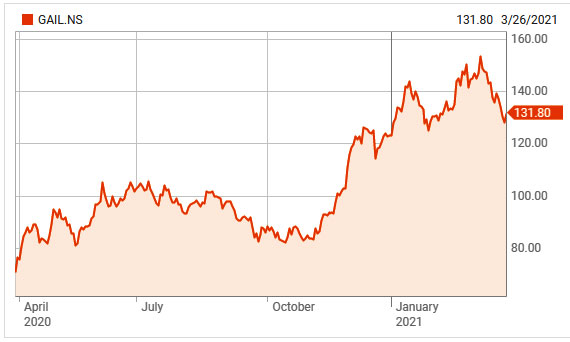 3. ITC Limited
ITC Limited (ITC Ltd), earlier known as Imperial Tobacco Company, is a cigarette manufacturer. The company boasts brands like Gold Flake, Flake, and Classic under its product portfolio banner. The company prides itself on having zero debt and has consistently maintained a dividend payout of 50%. Per the financial data, ITC earnings per share are INR 10.5, from which the company paid a dividend of INR 6.03. With a current trading price of INR 211, ITC has been giving out a dividend yield of 7.18% with a five-year dividend yield of 2.46%.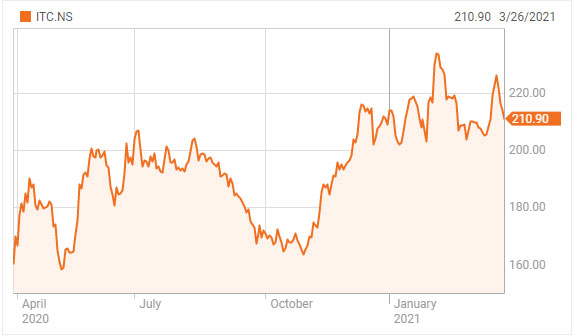 4. JK Paper Limited
JK Paper Limited (JKPA) is in the business of manufacturing paper and paper board. The products under the brand umbrella of JK Paper include coated and uncoated paper and board, packaging board, and office documentation supplies. Some of its product names are JK Copier Plus, JK Gloss Paper, JK IV Board, JK Cote Chromo, JK Excel Bond, JK Bond, and JK Ledger. Its uncoated paper and board products include JK SS Maplitho (SHB), JK MICR Cheque Paper, and JK SS Pulpboard. From the financial profile of the company, the earnings per share as per the latest data stood at INR 26.7 with a dividend per share of INR 4, resulting in a dividend payout ratio of 15%. At a current trading price of INR 152, JK Paper provides a dividend yield of 2.62%.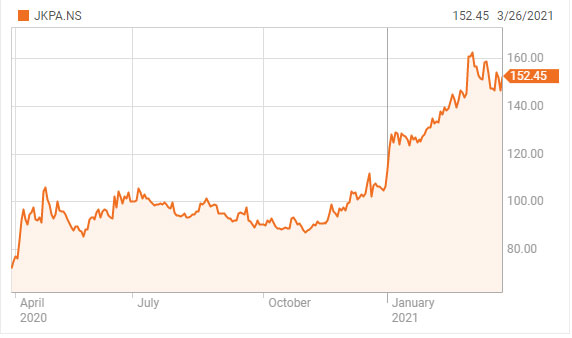 5. SJVN
SJVN Limited (SJVN Ltd) is in the business of power generation through various sources including thermal, hydro, solar, and wind. The company produces 1500 MW from hydro power sources, 4,000 MW from solar power sources, and boasts a 47 MW wind power project. With approximately 2,000 MW under construction, the company aims to increase its footprint in the sale of power across India. From a financial standpoint, the company recorded an EPS of INR 4.21 with a dividend per share of 2.20, resulting in a nearly 50% dividend payout to stakeholders. At the current price of INR 25.20, the company has a current dividend yield of 9.13% with a five-year dividend yield of 7.34%.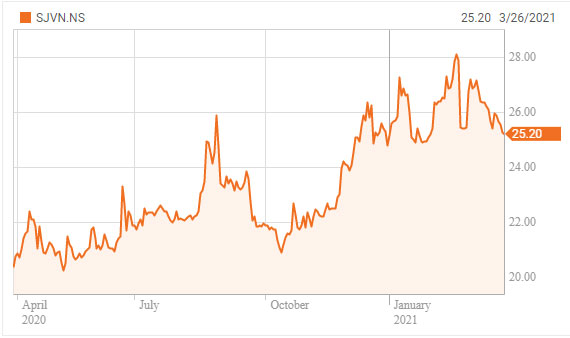 Taking this all into perspective, there are multiple stocks in the Indian stock exchange market which provide a dividend yield consistently in the range of 5 to 7% per annum. In comparison with money market yields that stand at a mere 3 to 4%, the dividend income stream is more favorable – especially considering the capital appreciation in those underlying stocks provides even more of an upside to our investment thesis.