Do you want to increase your mutual fund returns by 1% with just one click, then read on. Since 2013, SEBI has now made it mandatory for all mutual fund houses to also launch 'direct plan' for all their mutual fund schemes and since then direct investment plans are steadily gaining popularity among the investors.
Now, every mutual fund in India is available for investors through two types of plans- 'Regular' and 'direct'. When you invest in mutual fund through middleman, you generally invest through the 'regular plan'. Both the direct plan and regular plan are the part of the same mutual fund having same investment objective, portfolio, investment strategy, risk factors, load structure and also managed by the same fund manager.
But, the direct and regular plans have different annual expense ratio. The direct plan has lower expense ratio than regular plan as direct plan excludes mutual fund distributor's commission in calculating expense ratio. In India, the commission for the mutual fund distributors range from 1-1.5% of your mutual fund investment value. Over the longer period, say 10 years, if you compare the returns of regular plan and direct plan of the same mutual fund, you can save significant sum in terms of expenses and costs.
Let's learn from an example, if you invest in monthly SIP of Rs 1,000 for next 15years, assuming growth rate of 8% per annum, for every 1% difference in your expense ratio, you can save Rs 2.95 lacs just by investing in direct plan of the mutual fund.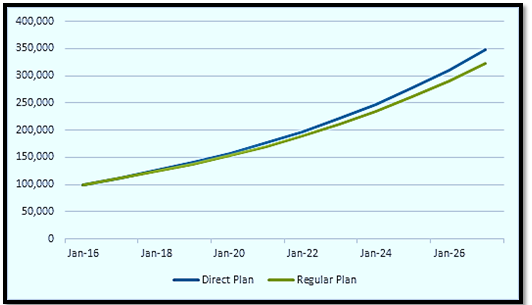 How to invest in Direct Plans
You have many options to invest in direct plans of any mutual fund. You can simply visit mutual fund house website and invest in their direct plans online. You can also invest through Registrar and Transfer Agents (RTA). Likewise, you can visit the website of major registrar and transfer agents like CAMS and Karvy and select the direct scheme of mutual fund of your choice. Leading online stock brokers including Zerodha, Upstox, ICICIdirect Motilal Oswal also provide this facility of investing in direct mutual fund. Also, many online FinTech platforms including Kuvera, Goalwise, Groww, Scripbox allow retail investors to invest in direct plans. To invest through offline mode, you need to fill up an investment application form. In the investment form, the investor has to write "Direct" in the column for distributor/broker code. Rest of the form is similar to regular plan of the mutual fund.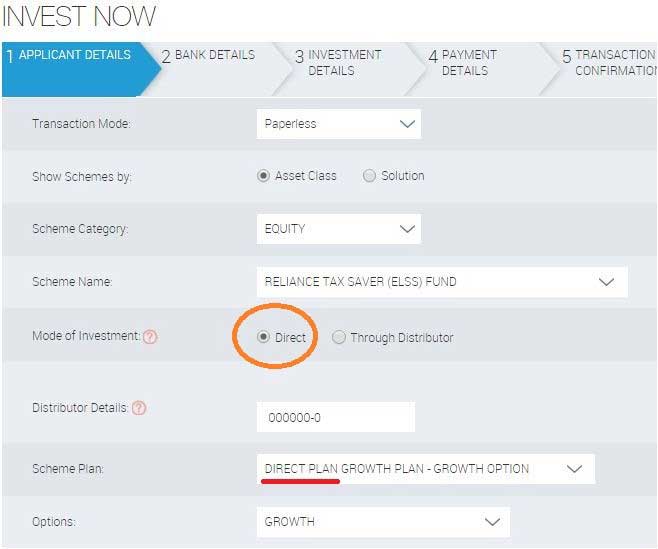 Switch to Direct Plan
Investors can also switch their existing mutual fund investments from regular plan to direct plan in similar way as described above. But for ELSS mutual fund schemes which have mandatory lock-in period, you can switch to direct plans once such lock-in period is over. But, if you switch to direct scheme of same ELSS scheme, your investments would be subject to fresh lock-in period of 3 years. You may also have to pay capital gains tax or exit load, as applicable, on the redemption of their regular mutual fund schemes. Thus, before redeeming, you should analyze the potential cost savings from investing in direct scheme with the capital gains tax and exit load liability of the regular plan.
Suitability
However, direct plan mutual funds are considered to be more suitable for experienced, well-informed investors. They are not recommended when you are investing for the first time. Else, you can consult fee-based investment advisor, registered with SEBI. Also, to record any change in your personal details including change of permanent address, nomination, you need to directly contact mutual fund through their call center or email.